Comp202: Principles of Object-Oriented Programming II
Fall 2007 --

Lecture 41: Treaps and 3-Tiered Enterprise Architectures

---
A Treap
Suppose that each BiTree contains an object that has a distinct key and priority,

and that we simultaneously maintain the BST property on the key and the heap property on the priority.
---
Insertion
The insertion procedure is straightforward:
Insert the node (key, priority, value) by key, just like a BST.
If the node's priority is less than its parent's priority, rotate around the parent, lifting the node above its parent.
For example, suppose we had inserted (key=73, priority=6) into the following treap.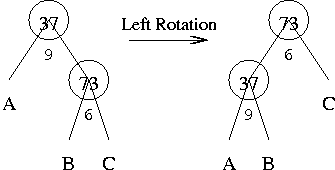 ---
Examples of Insertion
What happens if we insert (key=49, priority=19) into the following treap?
---
The Punchline
Suppose that we insert (key=3,priority=56), (16,33), (22,89), (31,17), (41,49), (53,22), and (69,36) in order of increasing key.

What happens? Note: ignoring the priority, this produces a worst-case BST.

---
...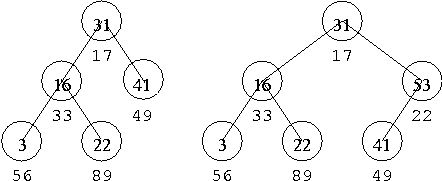 The punchline: The same treap will result regardless of the order of insertion.
Suppose that you don't require the priority for your application. The priority can be:

A randomly generated number
A ``hash'' of the key
---
3-Tiered Enterprise Architectures
The 3-tiered architecture is the classic separation of presentation layer, business logic layer and data storage layer that is used in almost all enterprise (multi-computer, multi-location) business applications.
Some general information articles on the web:
Compared to service-oriented architectures:
Java Servlets and Server Pages are the way to create the middle, business logic tier using Java technology:
"Application Servers" are extensions to web servers that are used to host Java Servlets and Java Server Pages:
---
Last Revised Thursday, 03-Jun-2010 09:52:35 CDT
©2007 Stephen Wong and Dung Nguyen