Use Cases
A use case is an example of how a user might interact with an application. To develop an application, one of the very first things that a developer must work with the customer to collect and analyze as many use cases as possible. It is from these use cases that a picture is built up that tells the developer how exactly the user (or any external entity) will interact with the system being built and thus how the sytem needs to be built.
Use cases give a high-level picture of the chain of processes that an application needs to perform in order to specific tasks. Generally, use cases start from the user desiring to do something, but can also be thought of in terms of either internal or external services that are offered. When viewed together, multiple use cases will become an graph of operations.
Use Case References:
Use Case Diagrams
A Use Case Diagram (a standard type of UML diagram) is used to visually represent a use case. Use case diagrams model the interactions between the tasks a system performs and external entities that need those tasks performed.
The main components of Use Case diagrams are the "actors", the users or other external entities, and the various components of the system being built. Arrows are used to indicate interactions between components.
Example Use Case Diagram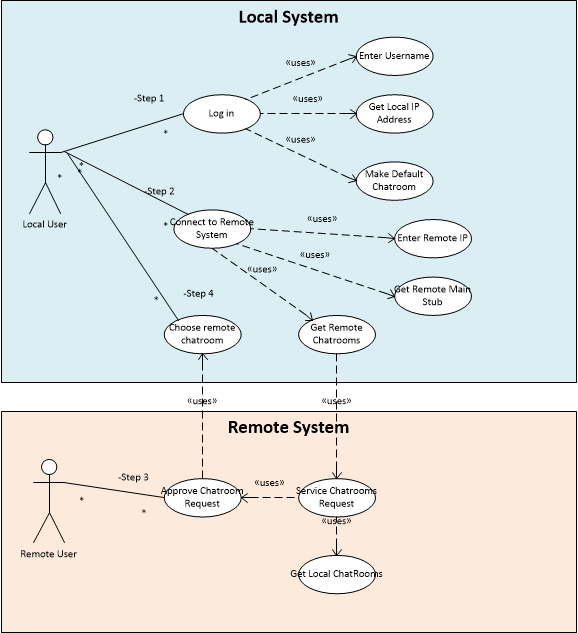 (Note: Example diagram does not show all the features described below.)
Features to be found in use case diagrams:
Use Cases: represent tasks that are performed by the system. They represent the unified actions of whole collections of objects.
Actors: represent the external entities that are interacting with the system. This is usually the user(s), but may be other system(s). When an actor has a relationship with a use case, it is said to be the "beneficiary" of that use case.
Collaborations/Systems: represent a cooperative relationship between a collection of entities that produces the tasks described by one or more use cases. A collaboration essentially represents the implementation, as a whole, of the use case(s).
Relationships in a use case diagram
Between Use Cases

Communications: represents when one use case communicates information with another. Shown as a solid line with no arrowhead.
Generalization: represents the relative difference in abstraction level between the two use cases. This is akin to the notion of inheritance in classes. One case is a more (or less) generalized version of the other, i.e. one use case is a concrete realization of the indicated abstract use case. Generalizations are represented by a solid line with a solid arrowhead where, just like inheritance in a UML class diagram, the arrow points from the realization to the abstraction. A common place to use generalizations are to represent different choices in processes that at situation dependent, e.g. if-else/switch statements, or different "flavors" of the same process. Some references:

Search for "use cases generalization"

Dependencies

General: represents the situation when one use case possibly depends on another for completion of its task. Dotted line with open arrowhead.
Extends stereotype-- represents variant behavior of a use case. That is, the child use case is variation of the parent use case and is applicable in a different situations than the parent. The one case adds behavior to the other. Dotted line with open arrowhead. Recommend adding "<<extends>>" stereotype label for clarity. Extends stereotypes are useful for expressing optionally executed behavior where the performing of the specified extension determined by certain conditions being met or by whom is invoking the use case. Extensions can also be useful for describing command or strategy executions.
Includes stereotype (aka "uses") -- represents a situation where one use case uses another use case in its entirety as part of its normal operation. Dotted line with open arrowhead. Recommend adding a "<<uses>>" or "<<includes>>" stereotype label for clarity.

Between Actors

Inheritance -- represents an "is a" relationship, which is an abstraction difference, just as in classes. Shown as a solid line with a solid arrowhead.
Dependency: One actor depends on another to do something. Shown as a dotted line with an open arrowhead.
Communication: represents communication between actors. Shown as a solid line with no arrowhead.

Between Actors and Use Cases

Communicates: represents the transfer of information between an actor and a use case. This is the only way that an actor interacts with a use case. Shown as a solid line with no arrowhead.

Between Collaborations and Use Cases

Dependencies (dotted lines with arrowheads)

General: a composition is composed of the indicated use cases. Dotted line with open arrowhead.
Realizes (stereotype): represents the notion that a collaboration performs ("realizes") the referenced use case(s). Solid line with closed arrowhead. Recommend adding "<<realizes>>" stereotype label for clarity.
REMEMBER: The (open) arrows between the individual uses cases in a use case diagram represent composition, not relative temporal execution!
When a use case has arrows (open arrowheads) pointing to other use cases, it means that use case is composed of the referenced use cases. It does NOT mean that one use case is executed and then the next is executed. If a temporal ordering of the use cases needs to be indicated, simply number the arrows to indicate the order in which the component use cases are executed in order to generate the overall use case. Convention is for the tasks to be ordered in temporal order from top to bottom in the diagram.
Use Case-driven System Block Diagrams
System block diagrams are the next developmental stage after creating Use Cases. These high-level modularizations of a system can be directly generated by simply organizing a well-constructed use case diagram.
For more information, see the Java Resources page on Use Case-driven System Block Diagrams.
---
© 2017 by Stephen Wong